Cohh has finalised his GuardianCon 2019 charity goals list; see them here:
10k Cooking Simulator
20k Beat Saber
30k Leisure Suit Larry
40k 2h of a game chosen by top donator of 1st 2 hrs, 2h chosen by top donator last 2 hours
50k $2500 PC Giveaway
60k THE SHAVE(tm), hair and all facial hair
70k $2500 PC Giveaway
80k THE COSPLAYS(tm), Obi-wan Cohhnobi, The Chef, The Leisure Larry
90k $2500 PC Giveaway
100k ultimate dab and $2500 PC
(SECRET)
(SECRET)
(SUPER SECRET)
(SUPER SUPER DUPER SECRET)
As can be seen, the last 4 rewards are hidden; they will show and unlock if and when those goals are reached.
Join us June 21st at 8AM - 12PM EDT for some fun and prizes. For the kids!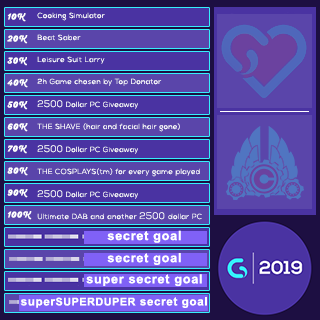 nuu