Where'd my username come from?
It's a spelling variant of a traditional Hawaiian(?) name of a friend from Hawaii. His name was "Ko", which I later learned was a traditional Hawaiian name. It always stuck with me as an interesting name, as I'd never heard anything like it before that time. I didn't really think about it and a couple years went by. Around the time I started Everquest 1, I needed to make a new name. Something that I knew I'd use for a long time. After playing around with the spelling and length requirements (4 letters), I came up with the name "Cohh". I've been using it ever since
First name
: Ben
Age
: 33 (21 with 12 levels of undistributed experience)
Location
: Live near Durham, North Carolina, USA
Wife
: Laina is my Wife! We met at school in 2002 and been together since.

Daytime job
My 4-year challenge is complete and I am now an EVERYDAY STREAMER! I will be on every day of the week from 8am EDT to at least noon most days; no challenges and no streaks, just every day streaming. I WILL get 12 days off a year (for family, vacation, etc) but will give far notice in advance. Thanks for making my dream a reality!
Education/Work Experiences
I've studied Game Design at Full Sail University - but because streaming took off, I stopped after 2 years. I plan on eventually taking the last year or so of coursework for a degree in the future.
Before that, I've worked in a LOT of different jobs - I've been an electro-DJ and music producer on the East Coast, last few was in IT support.
Laina works as an Animal Keeper at Museum, taking care of LOTS of critters every day - from monkeys to woodchucks and loving it!
What's that sound/furry tail in the corner of the webcam/barking in the background?
We have a LOT of animals in and around the house :
2 dogs, 3 cats, 2 chickens, 2 parakeets & a bearded dragon.
Laina also has
Sunny, her lovely horse
at the stables where she trains him using the
Parelli
method.
What's your gaming pc specs like?
CPU
:Intel Core i7-5960X Haswell-E 8-Core 3.0GHz LGA 2011-v3 140W
Motherboard
: Asus X-99 Deluxe
RAM
: 4x G-skill ripjaw 8GB DDR4 2400Mhz
GPU
: 2x GTX980 4GB EVGA SLI
SSD
: 2x Intel 730 SERIES 480 GB SSD in raid 0
HDD
: None for now
PSU
: SilverStone ATX12V/EPS12V 1000W Silver Modular PFC Power Supply
Cooling
: Antec Kuhler H2O 920 Liquid CPU Cooler System
Case
: Custom Mach V built by Falcon Northwest
Drive
: Asus Black 12X BD-ROM 16X DVD-ROM 48X CD-ROM SATA Internal Blu-Ray Drive
Monitors
: ASUS 24" VG248QE Black 144Hz FullHD + 2x22" ASUS FullHD
Sound Inpu
t :
Razer Seirēn
microphone
Webcam
: Logitech C920
Input Devices
: Razer DeathStalker keyboard + Razer DeathAdder mouse OR Razer Naga
mouse
- All resting on a Razer Goliath mouse & keyboardpad
Software
: Windows 8.1 x64
What are the specs for the streaming pc?
CPU
: Intel I7 5820K
MotherBoard
: MSI X99S GAMING 7
GPU
: MSI GTX 980
Cooling
: AVC K7127n 120MM Liquid Cooler
Case
: Black/Red iBUYPOWER Noctis N450 Full Tower
Hard Drive
: Seagate 4TB HD
SSD
: 240GB Kingston SSD
Ram
: G.Skill RIPJAWS4 8GB DDR4 x 4
PSU
: ThermalTake 750W PSU
OS
: Windows 8.1
Cohh is using Razer Black Widow Ultimate Stealth and Razer Mamba tournament edition.
This is how it ALL looks like - in action: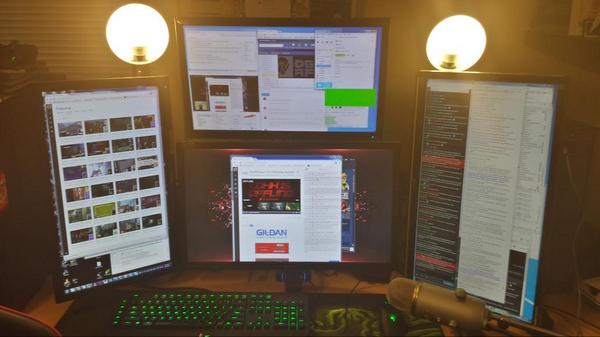 What consoles do you have besides PC?
PS3, PS4, WiiU, Xbox360, and XBoxOne
Streaming Questions + Guides
When did you start streaming?
April 4th 2013
What type of games do you stream?
New releases, community games and classics. Also we have a focus on "Franchise playthroughs" where we play all the games in a series (Witcher, Fallout, Deus Ex, Dragon Age, etc)
How long did it take until you got your sub button?
September 4th 2013
What is your highest sub train?
1081 occurred on 1st of March 2017
I'm starting up streaming, how do I get followers/partner/viewers/content/all the things?
Streaming podcast
How do I to setup OBS, Greenscreen & sound?
Green Screen
OBS
What kind of tricks/plugins do you use
All of my software (Donations, overlays, website, bots, etc) are done in-house by Tech Team 6 (cohhTT6). Tech Team 6 includes Rodr1c, BarryCarlyon, Triwar, PropidationDannyB, Kimen91 & occasional guest artists/programmers.
There are MULTIPLE youtube vids on how to setup SubAlert / DonationTracker just search

How do I setup X, remove static from Y, monetize Z?
If you research the subject yourself on various forums & help sites, chances are you will learn a lot of OTHER useful things aswell.
If you plan on streaming, I encourage you to learn EVERYTHING about the technicalities of things, because it's hard work to make it look easy and flow smoothly during the stream.
Better to teach a streamer that s/he should use help forums/google than fix that ONE problem, but leave the streamer helpless for the next 10!
How much money do you make?
I can't discuss the specifics of how much money I make from streaming on Twitch, as part of my contract with them.
I will however say that lately (spring 2014), I am around par compared to my old IT tech/support job, but it fluctuates constantly.
How can I join The Cohhilition Streaming Group?
Read more
here
.
Continued below